Chinese buyers fuel Brooklyn real estate boom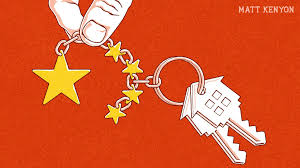 I regularly find leaflets from Chinese property developers in front of my door of my apartment in Brooklyn. Many of those Chinese developers are offering to buy homes for cash. This is still continuing even after the China goverment has put some foreign exchange restrictions in place making it harder for Chinese individuals and institutions to transfer money out of China.
Foreign money has always played an important role in luxury real estate markets like Manhattan and London. Based on Jonathan Miller, the president and chief executive of the valuation firm Miller Samuel, foreign buyers of New York real estate have come to represent a steady 15% of the Manhattan luxury real estate market. However, now they are also putting money into new neighbourhoods such as Brooklyn, where town houses typically sell for about a third of what they might in prime NYC, and the foreign money — particularly the Chinese money — continues to buy more real estate. "Even when the dollar began to rise in 2015, the Chinese didn't leave — they are just moving to Brooklyn, or Houston, or other second cities, and they are buying cheaper properties with more potential upside," says Mr Miller.
This trend is an indication to which degree the extent to which Chinese citizens are concerned about the economic trajectory of their own country. Whether the renminbi is strong or weak, Chinese money keeps pouring into New York or Miami. This hints at two things — first, there is still a tremendous amount of concern among rich Chinese about the political and economic future of China. Second, like everything in China, the amount of capital that might flow out of the country in the years to come is massive. Read the full article here.
Source: Financial Times, April 16 2017