US real estate seminar in Hangzhou (China)
On June 15th 2014 more than 20 potential Chinese clients and business partners gathered in Hangzhou to learn about the USA real estate market.
Background
East-West Property Advisors, a US real estate advisory firm, was invited by an asset management company to present potential investment opportunities in the USA real estate market. Hangzhou is 180 kilometers southwest of Shanghai. In the past decade Hangzhou's Hi-tech development zones have caused rapid expansion of its industry and population. Due to its reputation as a hub for technology, along with the city's beautiful natural environment, Hangzhou has been nicknamed "Paradise Silicon Valley."[1]
Details on seminar
The seminar was conducted in English and Mandarin and covered an overview of the USA real estate as well as opportunities in major US real estate markets (New York, Los Angeles, San Francisco, etc.). Each city was discussed in detail using historic data of home prices over the last 20 years as well as the forecasted growth, as well as specific investment opportunities.
When asked, attendees indicated that they would choose to buy in Manhattan, New York for investment purposes. The reasons they cited were the safety of investment and the potential for appreciation. If the purpose of the purchase was immigration, the Chinese clients said they would most likely choose to buy in California near Los Angeles. Investors were impressed by the size and quality of properties they could purchase in Los Angeles. For example in Calabasas it is possible to buy a 427 square meter home with a swimming pool for just under $1.9 million. As we have seen in the past, Chinese investors are interested in neighborhoods that are safe and nearby good schools. Although the investors were interested in these major markets, others saw the potential of cities like Detroit and Orlando. If the buyer can accept a certain amount of risk, these investments can have large returns both in rental yields as well as potential appreciation. A majority of the attendees noted they were more interested in potential appreciation than rental yields. Some even planned to leave the house empty in order to avoid maintenance costs and the complications that come with renting to tenants. While there is considerable interest in the USA real estate market, there is still uncertainty due to questions about laws and taxes. Many of the attendees had specific questions regarding taxes and tenant agreements showing they had already considered USA real estate investment.
East-West Property Advisors plans to return to Hangzhou in late July in order to introduce projects in Manhattan and Los Angeles to a group of 50-60 potential investors.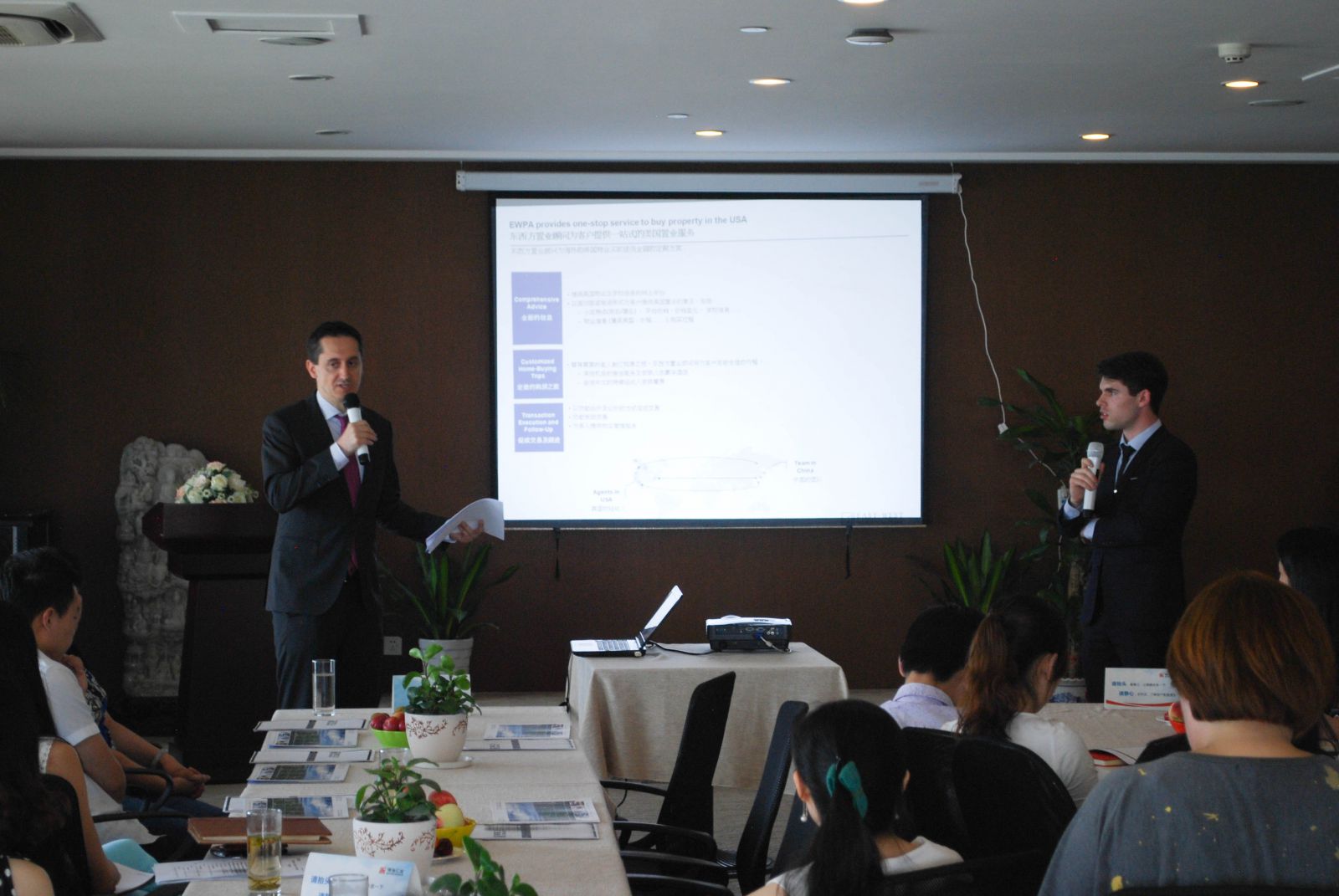 East-West Property Advisors, with offices in Shanghai and Hong Kong, is connecting US real estate agents with Chinese buyers. We are providing a one-stop service for Asians buying real estate in the US. For more information, please visit www.USARealEstateOnline.com or call +86 (021) 6157 4948
[1] http://rightsite.asia/en/industrial-zone/hangzhou-hi-tech-industrial-development-zone