You have to pay nearly $1 million just to view these apartments!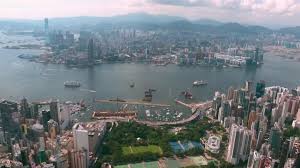 Real estate agents in Hong Kong are asking potential buyers to pay almost US$ 1 mm simply to view some luxury condos. this is another example of how Hong Kong's real estate prices have been risen to levels not seen before. The new complex offers sweeping views of Hong Kong's Victoria Harbor and is located near the city's central business district.
Real estate brokers told CNNMoney that the huge deposit (which is refundable) applies to 10 luxury apartments in the complex that will go for sale.
"This is an indication of how hot the market is here in Hong Kong," said Paul Zimmerman, director of think thank Civic Exchange and a district council member in the city. Prices have been fueled by years of low interest rates and money flowing in from mainland China, he said.
Prospective buyers for the luxury condos are expected to have significant amount of money. The buyers have to be willing to purchase at least two units and pay up the deposit just for a 90-minute viewing session. Even then, they don't get to view the actual apartments but they will be able visit a mockup that is situated in a different part of the city.
This is another example of why many people in Hong Kong and China are starting to step aside from the crazy local real estate market but looking now more than ever at overseas real estate markets. Read the full article here on CNN.