$6M Texas lakeview estate heading to auction targeting Chinese buyers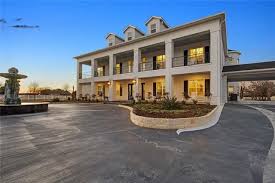 in December, an online auction platform will be trying to sell a luxury mansion to Chinese buyers. The mansion is located in Pilot Point (Texas) and was listed before at $5.95 million. The property offers 10 acres of land, a home with 6 bedrooms, 5 full bathrooms, 4 half bathrooms, a game room and theatre, and the property also has a private guest house and equestrian facilities.
The online auction platform is targeting Chinese buyers but it is also open to receiving bids from any investor across the world. It is not a surprise that Chinese buyers are being targeted; there is a new billionaire being created in China every other day. Many of these rich Chinese buyers are keen to buying real estate in the USA and other countries. Many of them are looking for ways to diversify their investments and investing in overseas real estate is one of the best ways for them to do so. Over the last 10 years, Chinese have been buying houses in the US, UK, Canada and Australia in their quest for diversification, another passport, their children's education or simply because they like to tell their friends about it.
Read more here at BizJournals.